Is everybody ready to meet Mr. Petty?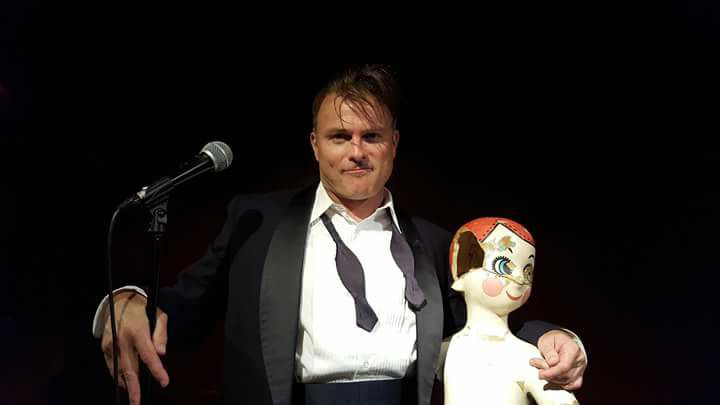 Greetings fellow Sophisticates. At last, the wait is over! Peter Petty & his Terpsichoreans! have finally recorded their debut album, and you are cordially invited to a party like no other, in which Harlow's will be temporarily transformed into the Copacabana West for the long awaited debut album release show, and 50th Birthday Celebrity Roast of the all-swinging, all-singing bandleader Peter Petty, featuring his 10 piece Terpsichoreans! orchestra.
This is really going to be an event not to be missed, ladies & gentlemen. Attire yourselves in your finest late 1960s era cocktail swag, and prepare to visit an anachronistic wonderland of high rolling entertainment and showmanship that you simply can not find anywhere else!
It'll all be there under one roof, folks: incredibly swinging live music, hilarious local luminaries, inexplicable variety acts, and Peter's dearest friends, old and new, (and even his own family,) turning up the heat, and twisting in the screws as they Dean-Martin-style roast this Sacramento serenader to a toasty, tasteless golden brown. You'll even get the chance to get in your own licks, in a rude, round-robin lightening round, so you can tell Mr. Petty just exactly what you've always thought of him (in two words or fewer, of course)!
And the band will play, ladies and gentlemen! Oh my GOODNESS, what a record this has turned out to be! Recorded by Internationally renowned Christoffer "Kid" Andersen at his Greaseland Studios in San Jose, CA, Ready, Petty, GO! is certain not to disappoint, and Peter Petty & his Terpsichoreans! will be playing all the hits to keep the evening swaying ever forward to its scintillating cessation
Of course, CDs and other commemorative tchotchkes will be on sale, and Harlow's bar will be mixing up a special batch of peterpettitinis for all you cocktail aficionados! And be sure to check back to this website as the date draws nearer to get a glimpse of the elatedly elegant album art by Chris Wilkinson. He has really outdone himself on this one, folks; you're going to want to purchase the CD just to get that beautiful picture! Truly, suitable for framing!
All 'board that Peter Petty passenger train, friends; next stop: Ready, Petty, GO!​