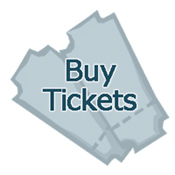 January 22 -
"Blow X Blow" Jump Blues Show w/ Two Tone Steiny & Danny Sandoval
(Sacramento, CA) -
$12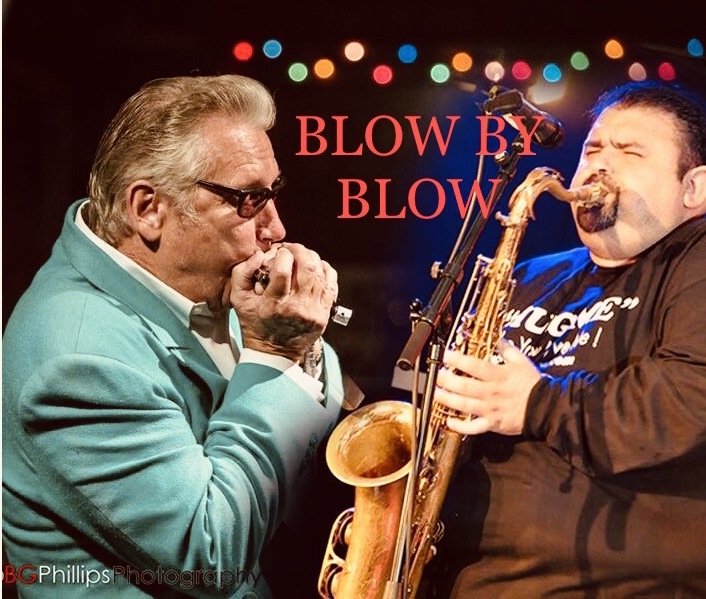 This show was one of the big hits of 2019!


Two-Tone
Steiny
& The Cadillacs is a high energy West Coast blues band. It is a special event every time this highly polished group hits the stage, bringing their own brand of jumping, swinging dance music! This award-winning band has carved a name for themselves by recording and performing their own original music, while staying true to the blues roots that shaped their unique individual style.
-WINNER: 2010 SACRAMENTO BLUES SOCIETY INTERNATIONAL BLUES COMPETITION
-WINNER: SACRAMENTO BLUES SOCIETY BEST SELF-PRODUCED BLUES CD 2010 & 2015
-NOMINATED FOR SAMMIE AWARD 2012-2013-2014-2015-2016
-RELEASED THREE
CDS
OF ALL ORIGINAL MATERIAL
Danny Sandoval grew up in San Pablo, California and started playing saxophone at the age of eight. He discovered a place at the East Bay Center for the Performing Arts in Richmond, CA for him to explore his passion and dream of becoming a professional jazz saxophonist. He started playing semi-professionally when he was sixteen, and continues to perform all over the Bay Area and Central Valley. By the age of 17, Danny was playing up to 5 nights a week in San Francisco, paying his way through college. Over the course of his training, Danny has had the honor of studying with Tony Archimedes, Frank Sumares, and Mel Martin. By playing the saxophone, Danny feels that he has been able to express his most inner passions out to audiences all of these years. Danny continues to pursue his love of performing, and is actively involved in touring, recording and playing live soul, funk, blues and salsa in area groups such as The Tropicali Flames, Peter Petty and The Mick Martin Big Band.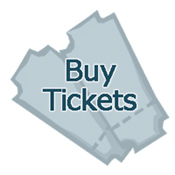 January 29 - Dana Moret & Friends (Sacramento/SF, CA) - $12/$10 w/SBS card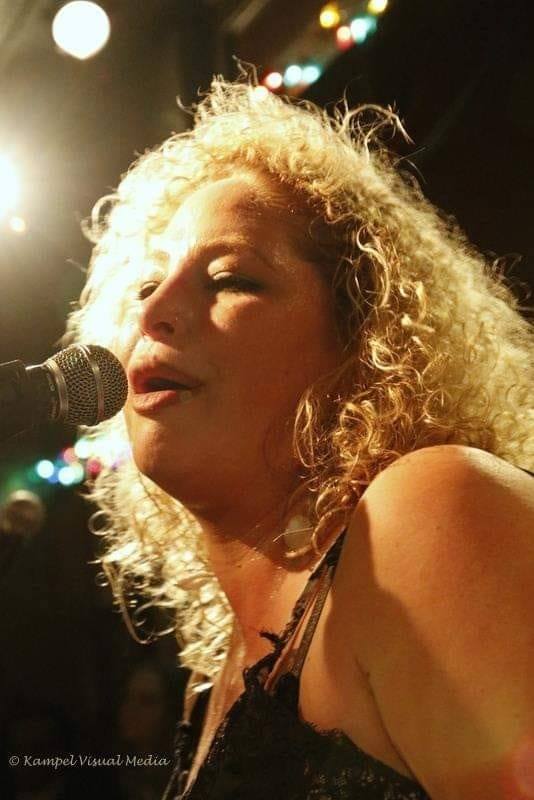 Currently backing legendary Bill Graham recording artist Lydia Pense & Cold Blood, Dana Moret has been one of the Capitol City's favorite radiant blues and soul vocalists for over 20 years. Dana got her start in her family's cherished nightclub, Constable Jacks in Newcastle, CA, and her vocal chops caught the attention of not only local blues musicians, but also international artists performing at the club. She shared the stage with true Bay Area musical heroes such as Big Brother & The Holding Company, The Sons of Champlin, Pablo Cruise, Lydia Pense and more. One of her earliest accomplishments was when she was asked to join the rebooted version of another of Bill Graham's favorite groups, Stoneground. With this "trial by fire" professional stage education, she learned quickly how to use her voice to suit multiple genres. Area blues, soul and rock groups came calling for her sound and expertise.
Dana is best known for her powerful soul and funk voice, but it was when she joined projects outside her comfort zone that she truly showed her vocal range. Whether you catch her gritty, rock performances with 98 Rock's longtime DJ, Pat Martin & his All-Stars, or crooning a sweetly obscure jazz number with area favorite Peter Petty, her debut at the Starlet Room will be one that her audiences won't likely see often. She has hand-picked versatile and beloved players for this show. Dana will focus on the special songs that shaped her musical prowess, ranging from Billie Holiday to Leon Russell. With an eclectic mix of jazz, blues, bluegrass and sultry rock, this is her audience's chance to see a side she rarely shows.. Unplugged.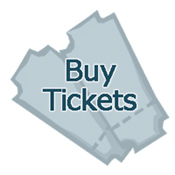 February 5 - Albert Castiglia (Miami, Florida) - $15/$12 w/SBS card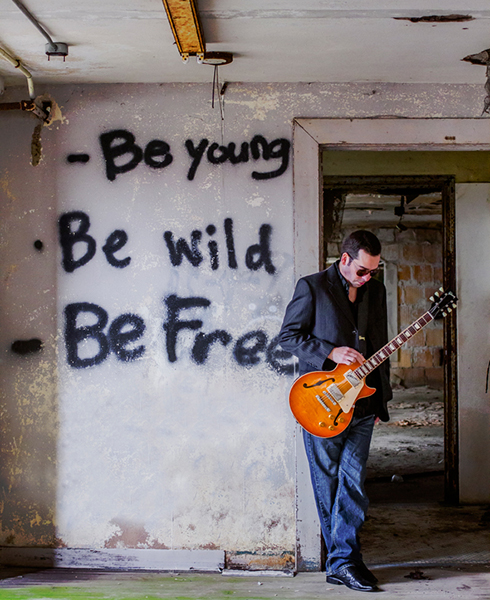 It may be a bit premature to crown Albert Castiglia America's newest King of the Blues, but there's little doubt that he at least deserves the title of heir apparent." — Miami New Times
FIRST TIME AT THE STARLET ROOM!
As most artists will attest, the most unexpected circumstance can spark artistic inspiration. That's a fact that hasn't been lost on singer, songwriter and guitarist extraordinaire Albert Castiglia. With his 2019 album, the aptly named Masterpiece, he celebrates an unforeseen triumph — a connection with a daughter he never knew he had. The result is a work that's both personal and provocative all at the same time.
Castiglia calls this the most meaningful album he's ever made. "My daughter finding me and opening up my world to an additional family, including two grandchildren, brought out the deepest material I've ever created," he notes, "along with my wife, they were my muses." Indeed, songs such as "Keep On Swinging", "Masterpiece" and "Bring on the Rain" address the unexpected emotions that infused his psyche with the discovery of a family he never knew.
"After my daughter and I connected for the first time, I submitted my DNA sample to the lab to confirm that I was indeed her father," Castiglia recalls. "I knew she was my kid the second I saw her picture, but my daughter wanted closure and by me taking the test, it would put all the speculation to rest. On the day my results came up positive, I wrote a letter to my daughter telling her how happy I was to be her father. At the end of the letter I wrote, 'I've been an artist for thirty years, but you're my masterpiece!' I ran with that line and made it the perfect song to express my love. As the lyric says, I loved her before I even knew her."
Co-produced by longtime friend and colleague Mike Zito, and released on Zito's own label, Gulf Coast Records, on May 24th, the album also finds Castiglia reflecting on the disappointment and disconnect that's gripped the nation in the past several years. Several songs, "Heavy" and "Love Will Win the War", deal with the dilemma that has impacted the those forgotten as the result of this modern malaise. "Heavy" brings those ideas to the fore. "It was inspired by people who live in this country and feel alienated, unappreciated, demonized and shunned by society," Castiglia reflects. "The homeless, the vets, immigrants, people of color, teachers, the LGBT community…they were on my mind the whole time I wrote this tune." "Love Will Win the War" goes even deeper into the horrors and violence that have shaken the very pillars of the nation's faith and fortitude. Castiglia says it was inspired by the mass shootings that were all too prevalent in recent years. "Those horrific events got me thinking, 'What goes through my daughter's mind when she drops her kids off at school? Does she think the worst or hope for the best? I really have a hard time playing this song without choking up, because I have my grandchildren in mind when I play it. It's sad, but I believe it's also hopeful."
The Miami-raised musician served an apprenticeship while backing legendary blues musician Junior Wells. He later went on to work with singer Sandra Hall. Never content to allow himself to be confined to any particular category, he embarked on a solo career that's yielded eight critically acclaimed album and consist kudos for his exceptional instrumental prowess, his searing vocals, and live performances that have dazzled audiences from coast to coast. It's little wonder that Miami's New Times lauded him as South Florida's "Best Blues Guitarist" or that USA Today was inspired to remark "It's a revelation to discover the thrilling retro-electric blues from this astonishing young guitarist."

For now, Castiglia is content to celebrate a new chapter in his life and what has become an added incentive for making music. That philosophy is perhaps best expressed in another song on the new album, a track called "Keep On Swinging." "It's about advice I would have given my daughter had I been around when she was a kid but which I'm now able to give to grandchildren," Castiglia says."'Keep on swinging, don't let the haters get you down.'" I always try to remind them that they are special and can accomplish anything their heart desires if they only put their minds to it. They're the ones that give me hope for the future."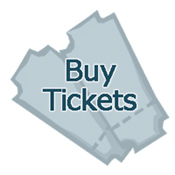 February 12 - Matt Rainey & the Dippin' Sauce with special light show (Sacramento, California) - $10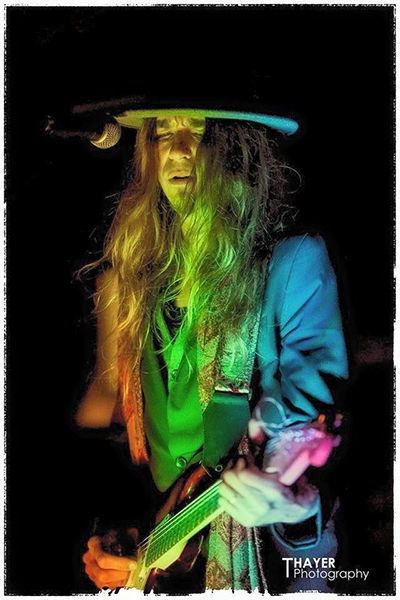 Matt Rainey and the Dippin' Sauce are the two time winners of the Sacramento Area Music Awards for Blues Band of the Year, and 2018 International Blues Challenge Quarter Finalists in Memphis, Tennessee. Often combining the Blues with a psychedelic Jam Band style, Matt Rainey fuses soulful Blues, Rock, Americana and Jam into one stunning package on the stage. The Dippin' Sauce have opened for some Jam Band greats such as Melvin Seals (Jerry Garcia Band), John Kadlicek (Furher), Mark Karan (Rat Dog), Keller Williams and Moe. With a line up of amazing musicians in the band or as a solo artist, Matt Rainey will always put on a stellar performance.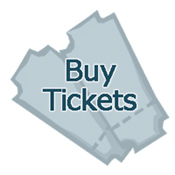 February 19 - Mark Hummel's Deep Basement Shakers CD Release Party (San Francisco, California) - $12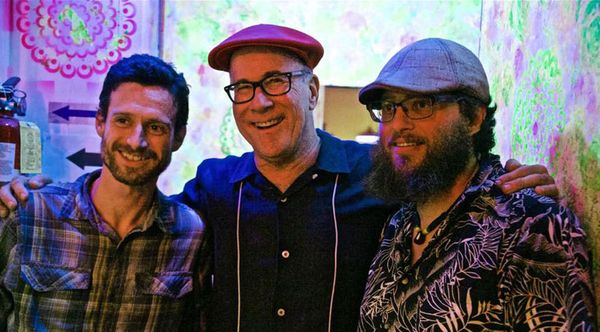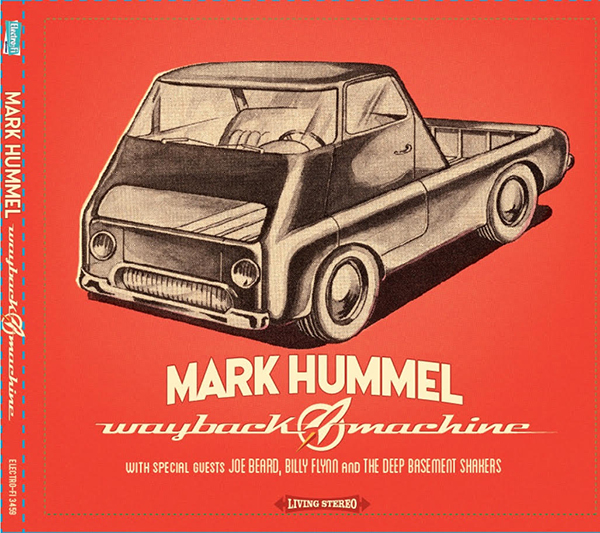 MARK HUMMEL TAKES A RIDE ON HIS WAYBACK MACHINE JANUARY 17, 2020
"Mark Hummel came of age in the early '70s, at the height of rock and roll, like many of his peers went and bought a harmonica and hasn't stopped playing since…he's a seasoned showman who knows more than a thing or two about how to please an audience." - (The New Yorker)
Toronto, ON - Electro-Fi Records is proud to announce the release of Grammy-nominated Harp Ace MARK HUMMEL's WAYBACK MACHINE on JANUARY 17, 2020.
On WAYBACK MACHINE, Hummel is moving forward by looking backwards and he's picked a sweet spot in Blues history to explore, the glorious Bluebird Records sound of the 1930s and '40s. Joining Mark Hummel on the album is Chicago first call guitarist BILLY FLYNN, the Red Hot West Coast Combo THE DEEP BASEMENT SHAKERS, and Mississippi Bluesmaster JOE BEARD. The 16 Dynamic tracks on this CD were recorded by CHRIS KID ANDERSEN at Greaseland Studios in San Jose, CA.
Grammy-nominted Harmonica man/singer/songwriter/bandleader/author/impresario MARK HUMMEL was born in New Haven, CT but moved to Los Angeles as a newborn. Hummel took up an interest in blues harp & rock-blues music in high school but soon discovered the originators like Muddy Waters, Sonny Boy Williamson & Little Walter. Soon after, Hummel frequented the Ash Grove club on Melrose Ave. in LA where he saw (in a three month period) three blues legends he would later work with on a regular basis; Charlie Musselwhite, Brownie McGhee (w/Sonny Terry) & James Cotton. By 1985 Mark Hummel's Blues Survivors hit the road full time & continue till the present (Hummel's memoir, "Big Road Blues: 12 Bars on I-80" recounts many road exploits). Hummel's been featured on over thirty recordings since 1985 including his 2014 Blind Pig Records, Remembering Little Walter (a recording of a Hummel Blues Harp Blowout.) The CD was nominated for a Grammy Award and won two Blues Music Awards. Hummel's most recent release, Harpbreaker (September 2018/Electro-Fi), is an all-instrumental harmonica album that redefines the scope and beauty of what the instrument is capable of in the right hands.
A new collaboration is taking place between Mark Hummel & the Deep Basement Shakers, as the two entities have locked forces to commit themselves to rockin' away the pre-war blues & boogie-woogie styles in this piano, acoustic harmonica/vocal & washboard trio. Specializing in primal, joint-rockin' barrelhouse blues n' boogie, the Deep Basement Shakers are an East Bay trio with a stripped down but powerful sound, featuring local traditional American music specialist Aaron Hammerman on piano and guitar, and local percussion legend Dave Eagle (the Right Time, Rusty Zinn, Zamico) on washboard, spoons, suitcase, train whistles, animal calls, etc.
Known for their floor-stomping appearances around the Bay and beyond, the Shakers bring to life good-time, steady-rollin' grooves from the deep musical traditions of days of old!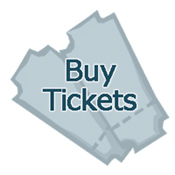 February 26 - Aaron Moreno & Friends (Sacramento, California) - $12/$10 w/SBS card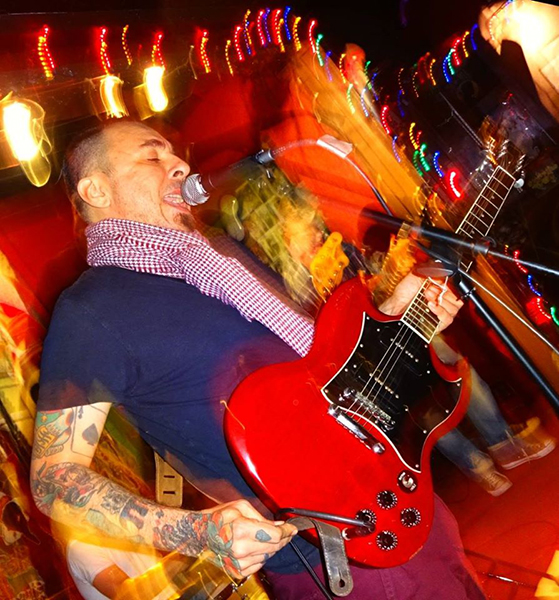 First Time at The Starlet Room!! Sacramento Blues Society Hall of Fame member Aaron Moreno in a rare performance!
A true product of the Sacramento blues scene, guitarist Aaron (King) Moreno has been an ambassador for Sacramento blues around the world showcasing a style that owes as much to jazz guitarists like Herb Ellis and country guitarists like Hank Garland as it does to blues guitarists like Albert King and Albert Collins. Born and raised in Sacramento, Moreno got his first lessons in blues from Sacramento Blues Hall of Famer Johnny "Guitar" Knox. He continued his blues guitar education under the mentorship of another Sacramento Blues Hall of Famer, Little Charlie Baty, developing a style that would combine blues, jazz, and country guitar. From there he spent his formative years playing guitar for and recording with the late, great pianist Omar Shariff.
Playing with renowned Sacramento jump blues band The Chrome Addicts, Moreno went on to win several Sacramento Area Music Awards (Sammies) including a Critic's Choice Award for Outstanding Guitarist. After several national and international tours with the Chrome Addicts, he left the band to start his own group, Aaron King and the Imperials. In addition to playing with the Imperials he also toured with world-renowned boogie-woogie pianist Mitch Woods playing such prestigious festivals as the Montreal Jazz Festival and Umbria Jazz Festival.
In recent years, King has broadened his musical horizons through his association with highly respected Sacramento jazz bassist Harley White, Jr., blurring the lines between blues, jazz, funk, and even hip-hop in an effort to continue pushing the music forward in ways his predecessors did decades earlier with the electrification of blues- a radical notion at the time.