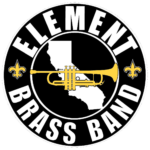 Element Brass Band (Sacramento, CA)
"It's about community. When we lift people up it makes the music rise higher!"

"Sacramento's own second line marching band, Element Brass Band, is out with a new album. "Cali's Got a Brass Band" continues the group's tradition of horn-driven, high-energy marching music and features album art from local Shaun Burner" - Sacramento New & Review

Second line music is most common in New Orleans, but with the efforts of groups like the Element Brass Band, second line is reaching appreciative audiences well beyond its traditional boundaries. Second line music is being played both nationally and internationally. Element Brass Band is the premier brass band in Sacramento, CA and one of the few authentic second line bands on the West Coast! EBB have toured New York, Atlanta, and New Orleans and performed at many, many clubs including The Fillmore, The New Parish, Club Amnesia, the Boom Boom Room, Ace Of Spades, the Starlight Lounge, the Shady Lady Saloon. Element has opened for the likes of Giza (Wu-Tang Clan), Blackalicious, Andy Frasco, The California Honeydrops, Turkuaz and many others.
"It tends to sort of create its own energy, rather than just channel the energy of our environment," says Joby Morrow, one of Element's trombone players. That energy shows in the massive crowds who have come to see Element at Concerts in the Park, as well as all the fans who voted the group as the best jazz act in the Sammies two years in a row.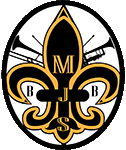 MJ's Brass Boppers (Oakland, CA)
Attending a MJ's Brass Boppers shows is the next best thing to following a brass band down New Orleans' famed Claiborne Ave. The swinging and singing brass-line is the Bay Area's only New Orleans-style brass band whose founding members were born and raised in New Orleans itself.
This group's sound has been meticulously formed over years of practicing and experimenting together, fusing classic high energy NOLA performance with funk, jazz, modern pop, with a second line rhythm and twist.
Since 2008, the tight knit musicians have written, practiced, and performed together at festivals, community events, nightclubs, and street corners around the Bay Area and beyond. They've opened for a variety of acts, including George Clinton & Funkadelic, The O'Jays, Trombone Shorty & Orleans Ave, Funky Meters, George Porter Jr., Kermit Ruffins, Glenn David Andrews, Zigaboo Modeliste, Monophonics, California Honeydrops, Dr. Michael White, Katdelic, and many more.
Together, these musicians come together as the versatile MJ's Brass Boppers, offering a taste of authentic New Orleans style with a West Coast flair.
Music
"Step Aside" - MJ's Brass Boppers
iTunes/Apple Music:
Spotify:
"U Can't Rock Unless You Roll" - MJ's Brass Boppers
iTunes/Apple Music:
Spotify:
Video
MJ's Brass Boppers @ Stern Grove (2016)
MJ's Brass Boppers - "You Know You Know"
MJ's Brass Boppers - "All Blues" & "E Flat Blues"